Interview With Lauren Barnholdt: Author OF Reality Chick!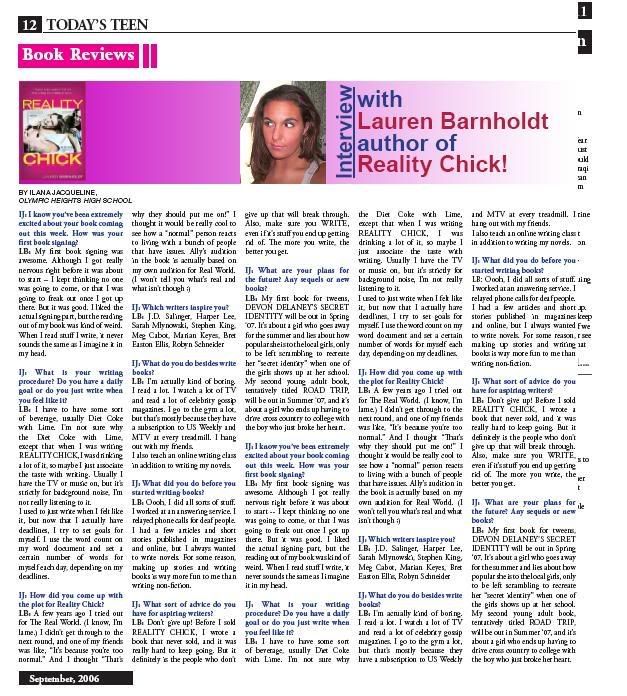 IJ: I know youve been extremely excited about your book coming out this week. How was your first book signing?

LB: My first book signing was awesome. Although I got really nervous right before it was about to start -- I kept thinking no one was going to come, or that I was going to freak out once I got up there. But it was good. I liked the actual signing part, but the reading out of my book was kind of weird. When I read stuff I write, it never sounds the same as I imagine it in my head.


IJ: What is your writing procedure? Do you have a daily goal or do you just write when you feel like it?

LB: I have to have some sort of beverage, usually Diet Coke with Lime. I'm not sure why the Diet Coke with Lime, except that when I was writing REALITY CHICK, I was drinking a lot of it, so maybe I just associate the taste with writing. Usually I have the TV or music on, but it's strictly for background noise, I'm not really listening to it.

I used to just write when I felt like it, but now that I actually have deadlines, I try to set goals for myself. I use the word count on my word document and set a certain number of words for myself each day, depending on my deadlines.


IJ: How did you come up with the plot for Reality Chick?

LB: A few years ago I tried out for The Real World. (I know, I'm lame.) I didn't get through to the next round, and one of my friends was like, "It's because you're too normal." And I thought "That's why they should put me on!" I thought it would be really cool to see how a "normal" person reacts to living with a bunch of people that have issues. Ally's audition in the book is actually based on my own audition for Real World. (I won't tell you what's real and what isn't though ;)

IJ: Which writers inspire you?

LB: J.D. Salinger, Harper Lee, Sarah Mlynowski, Stephen King, Meg Cabot, Marian Keyes, Bret Easton Ellis, Robyn Schneider


IJ: What do you do besides write books?

LB: I'm actually kind of boring. I read a lot. I watch a lot of TV and read a lot of celebrity gossip magazines. I go to the gym a lot, but that's mostly because they have a subscription to US Weekly and MTV at every treadmill. I hang out with my friends.

I also teach an online writing class in addition to writing my novels.


IJ: What did you do before you started writing books?

LB: Oooh, I did all sorts of stuff. I worked at an answering service. I relayed phone calls for deaf people. I had a few articles and short stories published in magazines and online, but I always wanted to write novels. For some reason, making up stories and writing books is way more fun to me than writing non-fiction.


IJ: What sort of advice do you have for aspiring writers?

LB: Don't give up! Before I sold REALITY CHICK, I wrote a book that never sold, and it was really hard to keep going. But it definitely is the people who don't give up that will break through. Also, make sure you WRITE, even if it's stuff you end up getting rid of. The more you write, the better you get.


IJ: What are your plans for the future? Any sequels or new books?

LB: My first book for tweens, DEVON DELANEY'S SECRET IDENTITY will be out in Spring '07. It's about a girl who goes away for the summer and lies about how popular she is to the local girls, only to be left scrambling to recreate her "secret identity" when one of the girls shows up at her school. My second young adult book, tentatively titled ROAD TRIP, will be out in Summer '07, and it's about a girl who ends up having to drive cross country to college with the boy who just broke her heart.






Book Reviews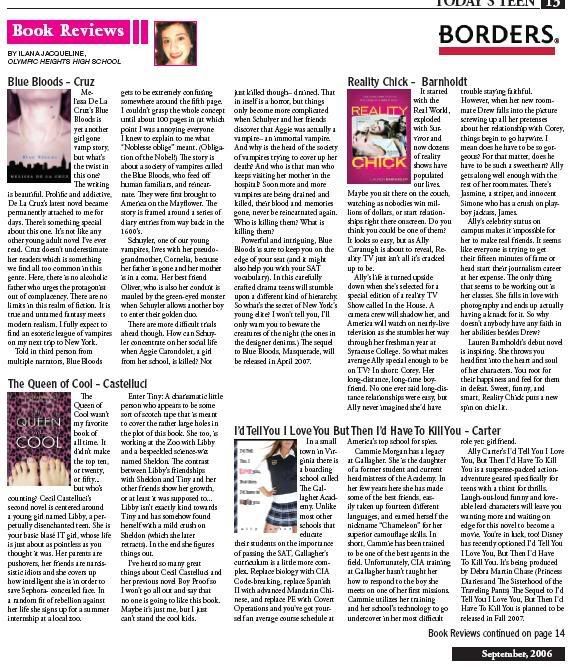 Id Tell You I Love You But Then Id Have To Kill You

In a small town in Virginia there is a boarding school called The Gallagher Academy. Unlike most other schools that educate their students on the importance of passing the SAT, Gallaghers curriculum is a little more complex. Replace biology with CIA Code-breaking , replace Spanish II with advanced Mandarin Chinese, and replace PE with Covert Operations and youve got yourself an average course schedule at Americas top school for spies.

Cammie Morgan has a legacy at Gallagher. She is the daughter of a former student and current headmistress of the Academy. In her few years here she has made some of the best friends, easily taken up fourteen different languages, and earned herself the nickname "Chameleon" for her superior camouflage skills. In short, Cammie has been trained to be one of the best agents in the field. Unfortunately, CIA training at Gallagher hasnt taught her how to respond to the boy she meets on one of her first missions. Cammie utilizes her training and her schools technology to go undercover in her most difficult role yet: girlfriend.

Ally Carters Id Tell You I Love You, But Then Id Have To Kill You is a suspense-packed action-adventure geared specifically for teens with a thirst for thrills. Laugh-out-loud funny and loveable lead characters will leave you wanting more and waiting on edge for this novel to become a movie. Youre in luck, too! Disney has recently optioned Id Tell You I Love You, But Then Id Have To Kill You. Its being produced by Debra Martin Chase (Princess Diaries and The Sisterhood of the Traveling Pants) The Sequel to Id Tell You I Love You, But Then Id Have To Kill You is planned to be released in Fall 2007.



Blue Bloods

Melissa De La Cruzs Blue Bloods is yet another girl gone vamp story, but whats the twist in this one? The writing is beautiful. Prolific and addictive, De La Cruzs latest novel became permanently attached to me for days. Theres something special about this one. Its not like any other young adult novel Ive ever read. Cruz doesnt underestimate her readers which is something we find all to common in this genre. Here, there is no alcoholic father who urges the protagonist out of complacency. There is no limits in this realm of fiction. It is true and untamed fantasy meets modern realism. I fully expect to find a esoteric league of vampires on my next trip to New York.

Told in third person from multiple narrators, Blue Bloods gets to be a extremely confusing somewhere around the 5th page. I couldnt grasp the whole concept until about 100 pages in (at which point I was annoying everyone I knew to explain to me what "Noblesse oblige" meant. Obligation of the Nobel!) The story is about a society of vampires called the Blue Bloods, who feed off human familiars, reincarnate, and where first brought to America on the Mayflower. The story is framed around a series of diary entries from way back in the 1600's.

Schuyler, one of our young vampires lives with her pseudo-grandmother, Cornelia, because her father is gone and her mother is in a coma. Her best friend Oliver, who is also her conduit is mauled by the green-eyed monster when Schucyler allows another boy to enter their golden duo.

There are more difficult trials ahead though. How can Schucyler concentrate on her social life when Aggie Carondolet ,a girl from her school, is killed. Not just killed though drained. That in itself is a horror, but things only become more complicated when Schulyer and her friends discover that Aggie was actually a vampire an immortal vampire. And why is the head of the society of vampires trying to cover up her death? And who is that man who keeps visiting her mother in the hospital? Soon more and more vampires are being drained and killed, their blood and memories gone to never be reincarnated again. Who is killing them? What is killing them?

Powerful and intriguing, Blue Bloods is sure to keep you on the edge of your seat (and it might also help you with your SAT vocabulary). In this carefully crafted drama teens will stumble upon a different kind of hierarchy. So whats the secret of New Yorks young elite? I wont tell you, Ill only warn you to beware the creatures of the night (the ones in the designer denims.) The sequel to Blue Bloods Masquerade will be released in April 2007.



Reality Chick

It started with the Real World, exploded with Survivor and now dozens of reality shows have populated our lives. Maybe you sit there on the couch, watching as nobodies win millions of dollars, or start relationships right there onscreen. Do you think you could be one of them? It looks so easy, but as Ally Cavanugh is about to reveal, Reality TV just isnt all its cracked up to be.

Allys life is turned upside down when shes selected for a special edition of a reality TV Show called In The House. A camera crew will shadow her, and America will watch on nearly-live television as she stumbles her way through her freshman year at Syracuse College. So what makes average Ally special enough to be on TV? In short: Corey. Her long-distance, long-time boyfriend. No one ever said long-distance relationships were easy, but Ally never imagined shed have trouble staying faithful, but when her new roommate Drew falls into the picture screwing up all her pretenses about her relationship with Corey, things begin to go haywire. I mean does he have to be so gorgeous? For that matter, does he have to be such a sweetheart? Ally gets along well enough with the rest of her roommates. Theres Jasmine, a striper, and innocent Simone who has a crush on playboy jackass, James.

Allys celebrity status on campus makes it impossible for her to make real friends. It seems like everyone is trying to get their fifteen minutes of fame or head start their journalism career at her expense. The only thing that seems to be working out is her classes. She falls in love with photography and ends up actually having a knack for it. So why doesnt anybody have any faith in her abilities besides Drew?

Lauren Barnholdts debut novel is fun, and inspired. She throws you headfirst into the heart and soul of her characters. You root for their happiness and feel for them in defeat. Sweet, funny, and smart, Reality Chick puts a new spin on chic lit

The Queen of Cool

The Queen of Cool wasnt my favorite book of all time. It didnt make the top ten, or twenty, or fifty...but whos counting? Cecil Castellucis second novel is centered around a young girl named Libby, a perpetually disenchanted teen. She is your basic blasé IT girl, whos life is just about as pointless as you thought it was. Her parents are pushovers, her friends are narcissistic idiots and she covers up how intelligent she is in order to save-Sephora- concealed- face. In a random fit of rebellion against her life she signs up for a summer internship at a local zoo.

Enter Tiny: A charismatic little person who appears to be some sort of scotch tape that is meant to cover the rather large holes in the plot of this book. She too, is working at the Zoo with Libby and a bespeckled science-wiz named Sheldon. The contrast between Libbys friendships with Sheldon and Tiny and her other friends shows her growth, or at least was supposed to... Libby isnt exactly kind towards Tiny and has somehow found herself with a mild crush on Sheldon (which she later retracts). In the end though she figures things out.

Ive heard so many great things about Cecil Castelluci and her previous novel Boy Proof so I wont go all out and say that no one is going to like this book. Maybe its just me, but I just cant stand the cool kids.

The Shadow Within

Ever meet someone who completely intrigued you? Who you knew, in your gut, had something going on behind the facade of the day-to-day? Jessie Connor has, and shes on a mission to find out exactly what is lying behind her schools French exchange student, Wesley Petersons, mask. Not that she has the time to indulge in such flights of fancies what with being a graduating senior, having her parents who engage in marital wars that could rival the crisis in the middle east, and losing the support of her best friend whos recently become attached to the dark arts. If you thought stranger things couldnt happen, youd be quite wrong. This thrilling and insightful young adult novel by Jenine Wilson can be found at www.jensonbooks.com .